PlanbookEdu 2004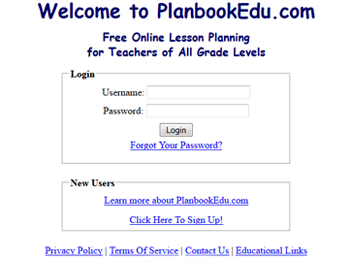 PlanbookEdu 2008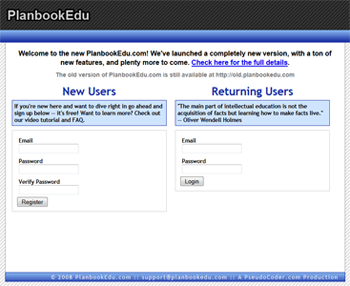 PlanbookEdu Today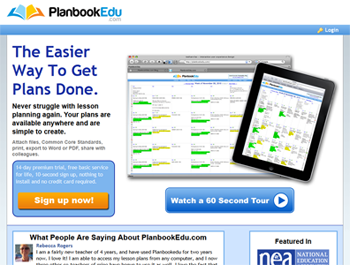 About PlanbookEdu
In 2004 a web developer noticed his wife (a third grade teacher at the time) writing, erasing, and rewriting her plans in a traditional paper planbook. She wished for a way to do her plans easily on a computer, and thus PlanbookEdu was born.
Today, PlanbookEdu has users in all 50 states of the United States, and in many other countries around the world. To date, there have been over ten million entries, which has saved approximately 250,000 sheets of paper.
Thanks to the feedback of its members, PlanbookEdu now boasts features such as file attachment, sharing, collaborating, the ability to embed a planbook in a website, the incorporation of the Common Core Standards, and creating custom standards.
Support Team
Melissa Hatzistergos is an elementary teacher and certified school administrator in New York. She is especially interested in providing support and professional development in the area of technology to classroom teachers.
Blog Team
Michael Herlan is a 7-12 classroom teacher for 18 years in Upstate New York. He has a BA in Social Studies and French, and a Master's Degree in Liberal Studies. Besides teaching in the classroom, Michael consults for as an IT professional as well as teaching online courses for the local BOCES (Board of Cooperative Educational Services) in the Wayne-Finger Lakes area of New York State.
Raye Wood is an elementary teacher in Michigan. She has a Master's degree in TESOL/ ESL and is a candidate-in-waiting for National Board Certification in the area of Early/ Middle Childhood Literacy. She is passionate about the Common Core Standards and educational technology.
Kate Sweeney is an elementary school librarian in Washington, DC. She has a Masters degree in Library Science. One of her particular interests is in integrating technology into the classroom and media center. She also has a passion for children's literature, and she writes a monthly book review column for Baltimore's Child magazine.
Founders
Erika Curry is a certified classroom teacher and School Library Media Specialist. She has two Masters degrees, both in education, and is currently pursuing a Masters in Educational Technology. Education and technology are strong interests of hers, and PlanbookEdu provides the opportunity to foster both!
Matt Curry has a Bachelor of Science degree in Computer Science. He has over 10 years of web and software experience, and has been the lead developer for several major companies.